You can't get there from here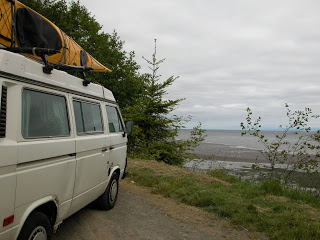 I wonder if they've got the road open yet.
Late Monday evening, around 9:00, a slide of rocks and mud blocked Highway 112 about 5 miles east of Neah Bay. State DOT spokeswoman, Kelly Stowe, said in a news conference yesterday that they expected the road to be opened again at 6 p.m. last night.
There's no other way into and out of the town of Neah Bay. Not by road, anyway. The 16-mile, two-lane blacktopfrom Sekiu to Neah Bay runs along the Strait of Juan de Fuca, just above the beach in most places. The upper left corner of the country is already remote, and it just got even more so. It's a rare thing these days to be truly cut off from the rest of the world, even if it is only for a short time.