Working in the woods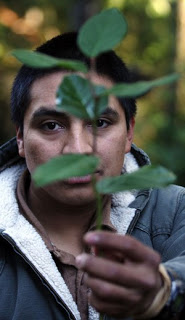 It used to be that when people talked about "harvesting" the local forests, they were talking about trees. Still are, in some places. Other locations, however, they're talking about the smaller stuff, moss, salal and slender stalks of beargrass, used mostly as decorative pieces of floral arrangements, not only here in this country, but around the world. It's big business.
How big? How does $250 million a year sound? (And that's just the legal part of the business.) In a 2004 study, Oregon State University professor Patricia Muir estimated that the commercial sale of moss, presumed to be worth $5.5 million a year, could actually be $165 million because of poaching. And that's for moss only. The forest biz is big enough that people, many of them undocumented immigrants, are robbed, beaten and shot over who gets to pick where. Pickers operating illegally often work after dark, heisting truckloads of vegetation off of public and private lands alike. It's an industry that mercilessly exploits its workers; the state of Washington has estimated that as many as half of the brush-picking businesses it has audited have been in violation of labor laws, and that doesn't even begin to address the illicit side of the racket.
It's a sordid tale, and one that most of us (myself included), know nothing about. Even the people who are supposed to know about what's going on – the foresters, the law enforcement types, the government – they don't know much more than the rest of us.
Mossy Mom, out of Shelton, has a couple of photos of pickers on her site, walking away from her, down a gravel road, their pack frames piled high with greenery. It seems right that the images, although powerful, are blurry and indistinct, just like the entire forest products industry.