Winter surf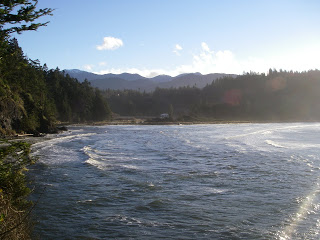 It's been a while since I've been surfing. A few days down in California earlier in the month, but not much around these parts. I had the chance to catch up with Matt and Chris just this past weekend, coworkers and friends from back in the days of Backpackers Supply. It has been too long.
It was obvious that they had been spending more time in the surf zone than I had been lately, especially that first afternoon. A wind had picked up from the west and worked with the substantial rip to make the conditions less enjoyable, even treacherous. Ninety minutes of having my butt handed to me by the steep,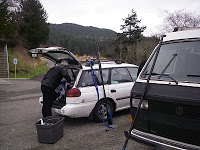 irregular waves was enough. I paddled in and went to the camp site and the others came in about a half-hour later.
It was an enjoyable evening, especially considering the time of year. The rain held off and the campfire was a bold one. Not too cold, but still a fresh wind off the bay, the tall trees grumbling in the dark above us. We caught up, told surf stories until bedtime.
The tide was low the next morning and there was no hurry to get out on the water. We could see from the overlook behind our campsite that the waves for that day looked to be shaping up well. Others apparently came to the same conclusion, because when we got to the lot at about 10:00am, there were six other cars ahead of us and more arriving right after we did. The surf was up and the word was out.
(That was kind of a trite line, wasn't it? "The surf was up and the word was out." Sounds a little precious.)
All that aside, the conditions were ideal. The wind of the previous afternoon had faded to nothing and the glassy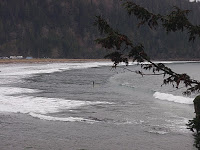 swells turned to evenly spaced, distinct sets of shoulder-high rollers, long rides and choices. I would guess that by the afternoon, there were about 60 paddlers and board surfers out on the break, but it never really seemed crowded. I caught almost every wave I went for and had some sweet rides, working the 12'1″ from front side to back, stalling on the face of the wave, then getting hurled shoreward on the breath of a collapsing barrel.
After three hours, I got cold. The wetsuit I was wearing was decent, but not good enough to allow a longer stay. It's hard to get the warmth back and my hands and feet were the worst; the shivering set in and I knew I was done. It was time. I caught a succession of smaller waves up to the mouth of the creek, and from there I paddled back to the van for a warm change of clothes.
It was good to be back.