Winter, interrupted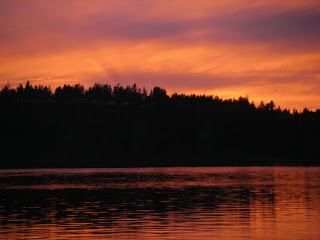 It got up to 75 degrees yesterday, or would have, if the wind hadn't been so strong. Today looks like it might get warmer yet.
This morning's paddle was serene. I crossed the Narrows at max flood, but the current was running less than two knots and I didn't have much turbulence. There was a light breeze, but it felt warm. The sun was in my eyes for a while on the way back from the Gig Harbor side, until I got closer to Salmon Beach and in the shade once again. Herring are jumping, huge breezers of fish dimpling the surface of the water.
Songbirds are everywhere, on both sides. I got on the water just before 5:00, and they'd already been at it for the better part of an hour, chanting in the new day. I took off my jacket once I got to the other side, and paddled back without it. I took my gloves with me, but didn't use them, the first time that's happened in a while.
I'm not prepared to say that summer has arrived. They're calling for rain this week along with lower temperatures and I've been wrong so many times before. It sort of feels like summer though. I hope it is.