Win some, lose some
There's a new Marine Trail site on Indian Island. According to the
WWTA web site
, the new Cascadia Marine Trail campsite at Portage Beach on Indian Island is "located on the dynamic waters of the Portage Canal… an ideal stop for boaters circumnavigating Indian and Marrowstone Islands. Visitors can stretch out their sea legs on two miles of hiking trails or practice navigating swift tidal currents in Portage Canal." It's only a mile or so away from the Kinney Point site at the south end of the island, so what this means is that the number of tent sites on that end has just doubled. That should give more options for anyone who's thinking about making it a 2-day trip.
Unfortunately, all is not good news. The next item on the WWTA home page concerns the recent closure of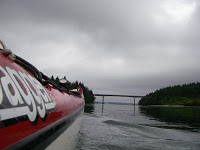 Strawberry Island, possibly the most beautiful camp site in the San Juans. To quote the WWTA page once again: "Due to state budget cuts, the Department of Natural Resources (DNR) has closed the campground facilities at Strawberry Island, effective Thursday June 18, 2009. All facilities have been removed, including picnic tables, signs and fire rings and the toilet. Day use is still permitted, but the site is strictly pack in/pack out – including human waste. "
I have two bottles of Merlot cached on Strawberry Island. Before the word came down about the closure, I was planning on camping there this Friday night with a group I'll be leading on a 3-day San Juan kayak trip. Plans change, I suppose. I will miss those lazy summer nights on Strawberry Island, out there in the fast moving waters of Rosario Strait. I will miss the crackling fire, the brilliant glow of the stars and the sound of porpoises feeding in the rip just offshore.
I am looking forward to staying in the new place though. It's just change, right? Change is good.