Win some, lose some (part II)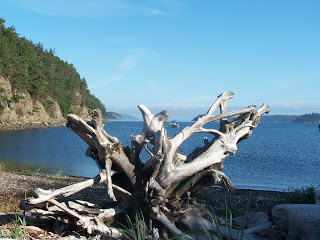 A month or so ago I mentioned that the Strawberry Island campsite in the San Juans was closed. I've been there since the closure and although the island is still there, still beautiful and perfect, the camp sites have been erased. Fire rings and picnic tables have been removed, as have the two outhouse buildings. It's still there for day use, but camping is no longer permitted.
Of course, that doesn't mean you can't camp there… people have done it already. There is a stone fire ring at the first camp site, the largest one. Proof of life, even after the venue has been shut down. I didn't go up the hill to see the other two spots. I was there to recover a cache of wine, two bottles of Aussie Merlot that I'd hidden away back in 2003, and I didn't stay long.
The latest news item from those parts concerns the other Cypress camping areas, Pelican Beach and Cypress Head. The DNR, the administrative overlord for Cypress and Strawberry Islands, has given notice that the use of these sites will also be curtailed. Both sites will close to campers beginning on Oct 1st of this year, and remain closed until next May. In 2010, they are scheduled to close right after Labor Day. Honestly, if they think they can get away with it (and I think they do), they'll probably just close 'em all. For good. I see that boiler-plate press release being written somewhere right now, somewhere in one of the more dank and slimy parts of Olympia.
And really, the thing is, if the DNR doesn't have the funding to keep these primitive sites open, they probably don't have the bucks to pay for too many patrols either. There will still be camping here… it may not be a good thing. But it will still happen. And maybe it's not a bad thing either.