Where are they now?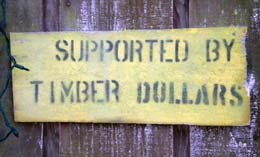 These signs used to be everywhere. Hoquiam and Forks, Port Angeles and Montesano. The plywood placards were all hand made and haphazardly stenciled, and sometimes the wording would be a little different, but most of them were roughly the same. Little yellow rectangles hung in windows or on the sides of homes and businesses, an in-your-face version of reality aimed at the environmentalist punks and big-city know-nothings that were seen as trying to change the rules of the game.
Spotted owl? Marbled murrelet? These were convenient critters for the environmeddlers, stupid fowl that nobody even knew about until the Sahara Club and the other greenies started to rave about them, got all the city folk riled up. If you ask some people, all that nature noise was a calculated part of the plan to shut down the timber business entirely.
The people with those little, yellow signs on their houses, what was going through their heads as they took those signs down? Were the scraps of wood burned for fuel or simply discarded? Like the spotted owl, they are rarely seen anymore, and the timber dollars they speak of are long spent and gone.