What's in a name? (Sequim edition)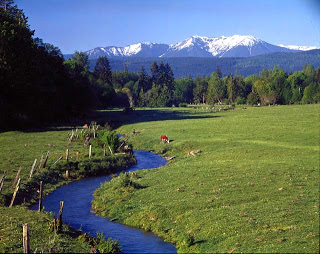 As it turns out, the town of Sequim has been hiding its true nature. For the past hundred years or so, the name of the town has been taken to mean, in the parlance of the local Jamestown S'Klallam tribe, "Quiet Waters." Kind of tranquil, slow-moving and sleepy, (like so many of the drivers out that way.) Bucolic, even.
So much for all that.The tribe has established that the quiet waters moniker is completely off-track, a bogus marketing ploy put together by the town's founders and early boosters back in the 1870's. The actual meaning of the term translates better as "place for going to shoot," significantly less genteel than the tarted-up version than we've been used to. Or, as the Tacoma paper put it, it sounds like a town "more suited for Clint Eastwood than the Dalai Lama."
Good one.
Of course, it doesn't make all that much difference in the end, certainly not to the people who live there. The sun will still shine brighter and more often there than most places in western Washington and the type of folks these days who are interested in going to a place to shoot will undoubtedly be looking elsewhere.
Like Lakewood, for instance.