Way, way out of the office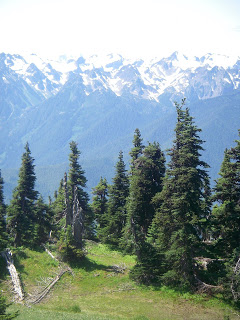 Incommunicado again. I leave this evening for Port Angeles and the Whiskey Bend trailhead, then begin hiking tomorrow. I'm planning on retracing (more or less), the route taken by the Press Party on that first Olympic crossing almost 120 years ago. I'll be taking approximately one ton less supplies with me – no bacon, flour, ammo or whiskey, for instance – and I'm hoping to cover the ground in about five days, about five months less than they took.
It is summer, however, and I do not plan on breaking trail through chest-deep snow. I won't be building a barge to transport all my gear up the Elwah – my pack weight will be right around 30 pounds, with water – and I have a map. The Press Party were under some serious environmental pressures and logistical nightmares that are not likely to figure into my route planning decisions.
I am hoping to climb a little, most likely Mt. Barnes and possibly Mt. Queets. I was also hoping to summit Mt. Seattle as well, but I will likely not have the time for that before I have to start down the Quinault, back to the lowlands. The actual hiking distance is right at 50 miles and any climbing will tack on miles to that number. With temperatures in the 90's (so they say), this week has the potential for true suffering and possible weight loss. Ah, well.
Thanks to Mike and Chris, the shuttle crew who are making this trip possible. A 50-mile hike is significant but the shuttle, if I were to do it myself, would involve hundreds of miles. There is simply no way I'd be able to manage this trip without assistance and I am grateful for friends who are willing to help.
Even the Press Party had a shuttle.