Waving the flag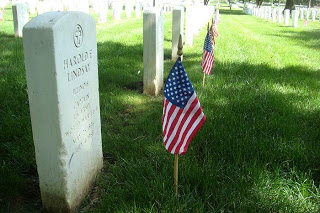 The year has rolled around to this point again, where we as a nation look back on the sacrifices of those who gave their all for our right to have a day off, to go to the big sale at the mall, barbeque in the rain and drink too much fizzy, yellow beer. 
Sorry… that sounds far too cynical.
As the war in Afghanistan begins to taper off (for the US, anyway), and now that the American portion of the conflict in Iraq is over, it might behoove us all to reflect – just for a minute, if that's all you can spare – on those who paid the ultimate price in the service of their country. It's a quaint notion, I know, but entire platoons and squadrons died for it. And if dying for a notion seems pointless, especially when we put the reality of it all into human terms like family, fathers and sons, we need to realize that it wasn't pointless for them. 
As for me, I'm already against the next war.