US Route 12, anyone?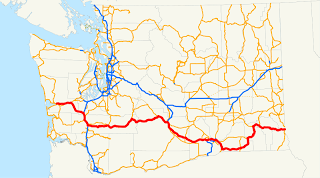 At some point during this past August's family vacation, I got to looking at a map of Washington (mostly to try to figure out where we were supposed to be going.) Our route took us down a portion of US Route 12 – near the Tri-cities area – and I remember being taken by how many of the places we passed seemed like spots I'd like to see up close.
When I looked back to the map, I traced the line of Route 12 from its start to where it ran off the east edge of the paper at the Idaho border. Its track twisted and and turned across the state, starting in in the coastal fogs and tall timber of Aberdeen and rolling through high desert, green and fertile river valleys, and the canyons and badlands of Washington's eastern frontier.
(As it turns out – after a quick trip to Wikipedia has made me something of an expert on the subject – US Route 12 keeps on traveling eastward until it eventually ends in Detroit, at the corner of Michigan and Cass Avenues, for those of you who may know the area better than I.)
It got me to thinking. A drive from Aberdeen to Clarkston, across the map from one margin to the other, might be the ideal family trip for next year. I've already driven the road enough to know that there are opportunities for local magic along the way, and a large passel of new places (for me, anyway), to experience. So, with that in mind:
I want to hear from you if you have any suggestions for places to see and things to do along the route. From Aberdeen to the Idaho border, if there's something that we should do or a specific sight we ought to see, please let me know. I'm thinking hiking, kayaking and SUP, cycling, wildlife, that sort of thing. Other pursuits, like wine tasting, galleries, brew-pubs and must-stop greasy spoons, also constitute necessary information.
I don't know how long of a trip it will wind up being, but I'm planning for something in the neighborhood of a week to ten days, which means there's a bunch of time to fill. I know some things I'd like to do already – paddleboard with the boy among the reeds and islands at the confluence of the Yakima and Columbia rivers, for example – but I've got to believe that there's a thousand other opportunities I've never even heard of.
Now, I don't solicit comments much, but this is different. If you live along the 12, or if you just happen to know of a place that we need to see, I'm starting to put the journey together in my head already. I just need input. You can email me at ken@lastwilderness.net or just leave your beta here on the blog; either way, I'm looking forward to your suggestions.