Uphill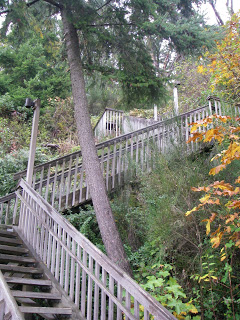 I've got a date with Mount Rainier. Well, I actually don't have a date yet, but late June is looking likely for the attempt. I have an assignment to write a series of articles, not only on the climb, but also on the preparations, equipment and training that are all parts of any successful summit bid.
I'm planning on going with my good friend Ned, who spent years as a climbing guide with Rainier Mountaineering Incorporated (RMI), and has over a hundred summits himself. We went out for dinner a couple of weeks ago to catch up and to discuss the climbing timetable and in the course of the discussion, he mentioned stairs as being among the best training tools for part-time alpinists like myself. I'm in decent shape at the moment – all that paddleboarding – but I don't feel like I'm in climbing shape,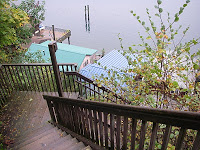 and as we talked about techniques for maximizing training, the subject of stairs came up.
There are 212 stairs that I climb every day, at least twice. Sometimes more. Yesterday, for example, I climbed them with the boy to take him to school. Then I had to go back down and back up right away because I'd forgotten my keys. I came home for lunch, then went back up to get Micah for swimming. Three times yesterday, and that was a very normal day. (Forgetting the keys is not normal – something of a rookie move, actually – but there seems to be no shortage of reasons why I need to go up and down the north Salmon Beach staircase.)
I just didn't see it as "training" before.