Turning
It's a gray, slightly damp and thick-sky morning, the kind of a morning that could be any day between September and April. It's cold, sort of, with a chilly wind out of the southwest and a chop on the water. Summer is definitely past.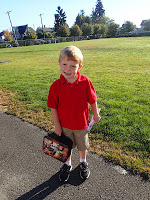 I just got back to town last night after spending the past weekend on the Oregon coast (where it felt like winter as well.) The annual Chocolate Chicks trip is in the books and, once I get the boats cleaned and put away today, the season will definitely feel complete. I'm not ready to close the door on summer – we were kept waiting for so long – but I'm not sure I really have a part in the decision.
The boy started kindergarten last week. The Packers lost to the 49ers yesterday. I start teaching at SAMi tomorrow. The plants in the garden boxes have all gone to seed and the days are noticeably shorter (in the mornings and the evenings.) All signs of the change of the seasons, signs of the cold days and nights to come.
After I get the weekend's mess cleaned up today and catch up on the challenges that I am sure are waiting for me at the shop, I'll need to get my head back into the last remaining portion of the Ikkatsu Project, the out-and-back to Destruction Island that is coming up next weekend. There is still much to do…