Told you so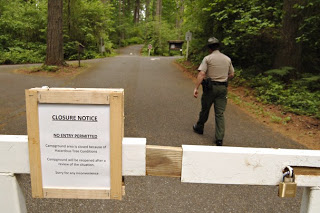 I wrote something about Kopachuck State Park
last year
, back when the logging was about to start. Just a feeling that it was the beginning of the end. And now, that feeling is getting even stronger.
Laminated root rot
is at the root of it all (pun intended), a disease that causes trees that look healthy enough to simply fall over without warning. It's not something that can be cured, except by cutting them down, which is what the State Parks program has called for. The logging is currently underway and, now that the area is being turned into something of a moonscape – and in spite of what was being said last year – State Parks is floating the idea that
camping will never return
to Kopachuck, although day use will. They say.
The whole thing sounds to me like that old Vietnam War line, "We had to destroy the village in order to save it." I guess it all depends on what your definitions of "save" and "destroy" are.
My crystal ball hasn't changed, however… here's my prediction: cutting will continue and camping will not. Day use will not be enough for the park to justify being open, so it will be shut down. The land is insanely valuable and budgets are tight. The park will be sold and developed, and the ubiquitous architectural monuments to capitalism and bad taste that have sprouted all along the waterfront properties of Puget Sound will take the place of trees and bushes. Where once was access for all will become private property, with all the mean-spirited signs and foul-tempered dogs that go along with it. The money from the sale will disappear into the general fund, or some other financial black hole and within a few years, will never be spoken of again.
The whole thing stinks of something, and it isn't root rot. I am not great at math, but like my mother used to say, I can put two and two together.
We had to destroy the park to save it. Or something.
There's a pretty good satirical video here that goes into the situation in a snarky, but engaging way. Truth is often pretty damn ironic.