Thoughts on death and surfing, part 5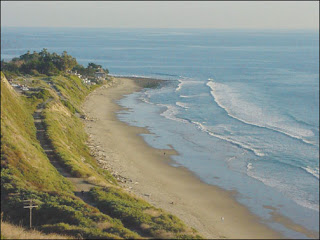 The funeral was yesterday. Clear blue sky and 80 degrees, with a breeze coming in from the west as we all assembled at the graveside. Words were said and songs were sung. Tears were shed. People who hadn't seen each other for many years got to reconnect – happy, shining moments on an otherwise somber afternoon.
This morning, the sun came up again, the same as it always does. I shuttled Mary and Micah down to LAX, through the crazy, weaving traffic of Reseda and North Hollywood, then turned back around to drive back.
I don't know when I'll be getting back in the water again… I was thinking maybe this afternoon, and I guess I still could do it, but there's less chance of it happening now than there was a few minutes ago, back before I ordered my second pint of Anchor Steam. The waves are blown out anyway, right? And, of course, there are any number of things I could do when I get back to the house – chores to be done and dinner to cook. I'm just not feeling it, when it comes right down to it.
The sun will rise again tomorrow too. There is a distinct possibility that a dawn patrol session might be appropriate.