This year's edition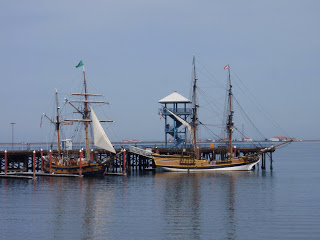 After a few quick days of surfing and hiking, I rolled down the mountain and into Port Angeles this morning. Had breakfast at Shirley's, the kind of place where the rusty pickups in the parking lot have bumper stickers like
"What would Scooby Do?"
and
"Screw Tibet – Free the Elwha."
Breakfast was delicious.
Continued on down the hill to the Red Lion, checked into my room and went looking for Dave. (Dave King, of Olympic Raft and Kayak, is the host for the event, now in its 10th year.) I found him down on the beach where he was busy coordinatin', and after saying hello, I went for a paddle. I'm teaching one class at 3pm and doing the slide presentation this evening at 7pm. A little time on the water before it all gets going seemed to be in order.
The tall ships Lady Washington and Hawaiian Chieftain are at the dock just across from the beach. What an amazing backdrop for what should be an excellent weekend.