Things that go vroom in the night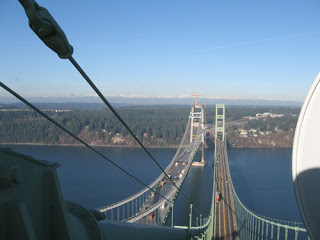 Since the second Narrows Bridge was built about 3 years ago, the traffic flow on Hwy 16 has gotten better. There used to be backups that went for miles at rush hour and just driving the ten or fifteen miles to and from Gig Harbor could take an hour. A few hundred million dollars later – problem solved. The backups are a thing of the past and for the paltry fee of $4.00 (for now), the drive across the Narrows has become fairly painless.
But it seems louder. It's more obvious. Are there more vehicles now? Does better flow mean higher volume? Maybe when all those cars and trucks were putzing across the single span, their total decibel output was diminished and now, with the reinstatement of freeway speeds, that volume has gone up?
I don't know. I just know that I can hear the traffic now and I don't remember it being as loud five years ago. When I paddle over to the peninsula side in the pre-dawn darkness, I listen for the sound of the current, water moving in rips and eddies, that can help me out or hinder my progress, depending on my situation. Without as many visual cues, night paddling in active waters relies more on auditory input. Like a blind man who depends on his other senses to compensate for his loss of vision, I need to hear the things I can't see.
I just don't need to hear all of them.