The week (in preview)
The rain falling outside is simply a harbinger of the watery week I have ahead of me. I'm leaving tomorrow for a couple of days at Deception Pass, for a few sessions of kayaking and paddleboarding. Then it's up to Bellingham to check out the Starboard line of SUPs and hopefully demo a few boards, courtesy of
the local board shop.
After that, I'm doing a slide presentation at the Bellingham Library for the monthly WAKE meeting,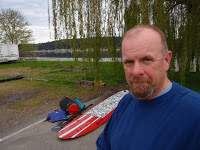 then driving back down the I-5 to T-town. The next morning, I'll be going a little further south, to re-check access and route information for a new paddling guide book (no guess at this time when this phantom project will actually be printed and available), and from there to the Black Lake area to do some recon for next summer's Olympic Grand Circle expedition. Then, later that evening, I'm attending the first of three
Great Big Sea
concerts that I'll be seeing over the course of the next four days.
Thursday is my day with the boy… pizza, train rides, swim class, all the good stuff. On Friday, the current plan is to head back up I-5, paddle the Duwamish and Lake Union, then move on up to Edmonds to catch the Great Big Sea show up there that night. Next morning, a ferry ride over to Kingston, more guide book-related driving and paddling in Port Gamble and Dyes Inlet, topped off by another concert in Bremerton.
I'm actually getting a bit fatigued just writing it down, but I'm looking forward to it anyway.