The Press Party revisited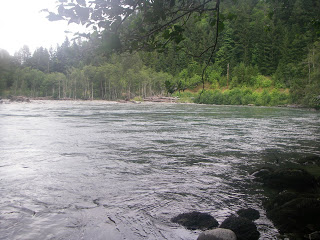 I have a book about the Olympics that talks about the Press Party in the most disparaging of terms. "Drunkards and imbiciles," it calls them. No mercy. And perhaps there is some truth to the slam. After all, it did take them 6 months to go 40-odd miles. You don't get numbers like that being sober.
Still, I've always wanted to follow that route, up the Elwah and out the Quinault, from one side of the range to the other. Over the Low Divide, to the headwaters of several of the peninsula's great river systems. There are trails now, of course, but I have heard that, if you know where to look, you can still see the blazes cut into the bark of the old trees, the three horizontal slashes that marked the route of the Press Party Expedition.
I'm going. After hemming and hawing for entirely too long, the Press route is where I'm headed at the end of July, using the time that I was to have been out at the coast. It's a giant, four-dimensional Rubik's Cube, this juggling of time and job, family and self. Always a balancing act. It's just gratifying when a plan comes together.
I want to go ultralight, but taking basic climbing gear… crampons, light axe. I think it went well last year in the Dosewallips, but I think I can get it even lighter this year.