The melt is on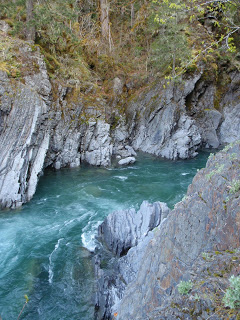 The Olympic high country is one of the few places in Washington that experienced above-average snowfall this past winter. There's still a fair bit of snow pack up there, but it's starting to break loose now that the temperatures have started upward. The Elwha, with its extensive watershed, is flowing fast and strong in its upper reaches.
I start out from Whiskey Bend trailhead just before seven in the morning. The early air is chill but the sky is blue and promises of sunlight touch the tops of the western peaks. Somewhere in the shaded distance, a grouse gives out with his thrumming call. Maybe a mile away, maybe just behind that tree there; it's difficult to say exactly where the noise is coming from.
The first mile or so is pretty level, a thin line cut across the forested hillside far above the river. Although most of this section is under canopy, there are breakout views at a couple of points along the way.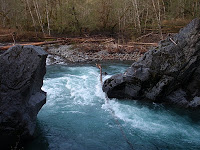 I can see snow-speckled hills across the valley, and now and then I am treated to views of the river far below.
As soon as I turn off the main trail and follow the spur to Rica Canyon, the terrain changes completely. The descent is a quick one, a half-mile and 10 minutes, at the most. The trail drops me at a ledge about 30 feet above the river, and I watch the water moving swiftly through the rapids as the river's course approaches the Goblin Gates.
The Gates are an impressive sight. More than that. It's one of those places that feel new and wondrous, whether it's your first time there or your fifty-first. The entire volume of the river is forced through a narrow passage between two vertical rock walls and turned 90 degrees to the right at the same time. From my perch atop the rocky outcropping at trail's end,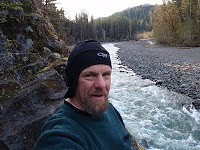 I am looking down into a cauldron of swirling hydraulics, millions of gallons of snowmelt, pushing itself downstream in a show of immense power and timeless purpose.
I don't know how fast all that snow up there will melt; I suppose every year is different. But even in the cool morning air I can feel the warmth of another day coming on and I know that at day's end, there will be less snow up there and more water down here.
And the river flows on.