The little girl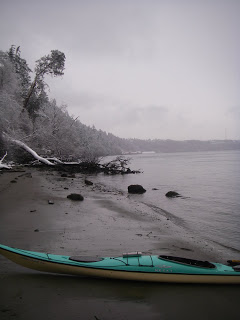 Growing up in California, I was always told that it was
El Niño
that brought the wet weather. The periodic oscillation in ocean temperatures moves weather patterns around and brings a higher total rainfall to Santa Barbara and the rest of SoCal, sodden winters that seem to last forever. Of course, it's still Santa Barbara, and forever really doesn't last all that long in Southern California.
I'd never even heard of La Niña until I moved to the Pacific Northwest. Come to find out that the patterns are different here than they were in my salad days, that it's La Niña that brings out the damp here in these parts. (It's actually the same basic weather cycle, it's just that I've changed positions. Low atmospheric pressure, which brings precipitation, forms over warmer water, and as the ocean currents bring the warmer water further north, the rain comes with it.) I heard on the radio yesterday that this coming winter is expected to be wetter and colder than normal here in Washington. With more snow.
Because the effects of the weather changes are most commonly felt sometime around Christmas, the name El Niño (literally "the boy" in Spanish), reflects the season and the birth of the baby Jesus. La Niña, on the other hand… I don't know who that's supposed to be. Did Jesus have a little sister?