The home stretch
In Portland now, at a little pub in Sellwood, knocking back a burger and a beer and getting ready for the presentation this evening at the Portland Kayak Center. The slides and stories went ok last night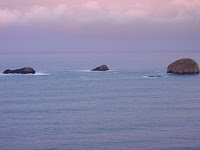 in Eureka, but there are parts and pieces that could be better. As with any new show, there are a few small alterations and changes that might be beneficial. I'm going to go through it all in a few minutes, make the changes I can and see how it goes tonight.
I stopped at a rest area this morning to clean the car and make one more PB & J.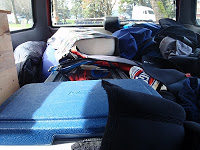 Living out of the Subaru has been an effort, even for a few days, and it makes me miss the van. (Which is in the shop at the moment, getting an engine transplant… I hope to have her on the road again in a week or two.)
I plan on heading home tonight, back on up I-5, to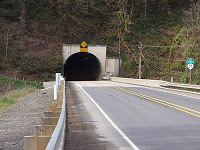 sleep in my own bed. Regardless of how the presentation goes this evening, this has been a good trip. I got about 10 hours of California surf time in, I had two excellent flatwater paddles, in Trinidad and Eureka, and I got a taste of what living out of a compact car might feel like. I learned a lot.