The Carbon River Wilderness Path (maybe)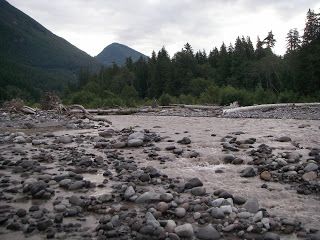 The ghost roads are back in the news again. Mount Rainier's Carbon River Road, closed because of flooding since 2006, is going to stay that way permanently, if the current National Park Service plan holds. It's been a while since you could drive to Ipsut Creek, and there are those who want the road back, but it doesn't look like that's going to happen.
Almost 18 inches of rain fell in the park on Nov. 6-7, 2006. The flooding that followed resulted in several slides that destroyed sections of the road, segments that would be too costly to replace, according to park officials. "I want to provide as much access as we can, but when you look at the road segment and the expense of providing flood repairs, it's a significant cost," Park Superintendent Dave Uberuaga said. "Emotionally, it's not where I would like the alternatives to end up, but as a prudent manager, I have to look at (park users) and say the road is not sustainable."
It's not like nobody saw this coming either. The park's 2002 general management plan directly addresses just such a situation, saying: "Private vehicles and shuttles would be permitted on the road until a major washout occurred. At that time, the road would be dedicated to non-motorized uses (hiking and biking)."
So, fine. I'm actually all for it, both in priciple as well as in this specific case. To those who would say that access is a right of all Americans, I would simply say that access has not been denied. Although it has been rendered more difficult, that's only because of an act of nature which, although foreseen, could not have been prevented. It's nobody's fault and there's no responsibility, on anyone's part, to make things like they used to be.
It means that was once a 7-mile round-trip hike to the snout of the Carbon Glacier is now almost 17 miles, well out of range for most day-trippers. That's a drag, of course, but it is hardly the same thing as denial of access. It's just harder, and maybe it's not supposed to be easy. I think that's my next hike… I want to see just how hard it can be.