The Bar (Part 3)
It takes about a half-hour or so to make the switch between the SUP and the kayak. In that time, the wind dies down a bit and the effects of the current, while still strong, are less of a factor on the displacement hull of the boat than they had been on the flat bottom of the paddleboard. With two blades in the water and the ability to maintain a glide through the swells, it takes a mere 40 minutes to get to the beach at Westport.
The current is strongest in the channel
near the Westport harbor. Crossing over to the sweeping sandy beach at Westhaven State Park, I pass from this swiftly moving section to the still water of the cove behind the long south-side jetty. The waves here are smallish and dumping and getting on shore is largely a function of being pushed to the beach by the white froth of the tumbling surf. I stretch my legs and walk on the sand while I eat my snack, take a bearing on my destination, and get ready for the return.
The waves that I had anticipated never really factor into my trip. I can see breakers off in the distance, at other places along the bar, but my route stays in deeper water and with the current getting closer to slack, the turbulence and disorder that I'd been preparing for never really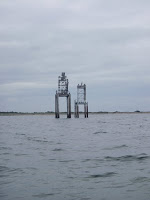 materializes. The paddle back to my starting point is unremarkable and fast, and it isn't long before I'm back in the van, heading for home once again (after a stop at the Blue Heron Bakery in Olympia).
I'm fairly sure that the trip could be done on a SUP without too much difficulty. The currents will always be an issue, but they can be accounted for. When the wind combines with the flow of the water, however, it gets difficult to maintain forward progress. I've noticed the disparity between kayak and SUP cruising speeds in the past – it's a mattter of hull design, not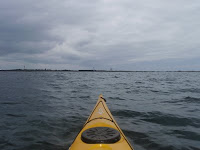 paddler power – and I am still convinced that the way to take advantage of both vehicles is to combine their positive traits and form an entirely new way to travel. More studies should be done.