The Bar (Part 2)
Between Westport and Ocean Shores lies two miles of open water. Not just any open water either; we're talking the Gray's Harbor bar, a treacherous mix of wind, waves and currents that are capable of shaking the nerve of any waterman on any given day. The Chehalis River – along with the Humptulips, the Wishkah, the Hoquiam and others – dumps millions of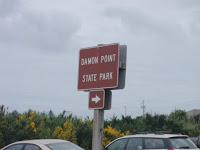 gallons of fresh water into the bay every day, at least during this time of year. Snow melting in the distant Cascades and the Olympics eventually finds its way here, rushing downward on its gravity-fueled ride from the forests to the sea.
The mix of fresh and salt waters, along with the power of the tides, makes the bar a sporty outing, even on the quieter days. As I slide the paddleboard into the water, I scan the outlying water for any action. It's calm close to shore but there's a breeze that's building from the southwest and within a few hundred feet of shore, I can feel the current, already pulling at me. There are big waves to the west, near the hotel beaches at the tip of the Ocean Shores Peninsula. In front of me, however, the surface of the water is mostly flat,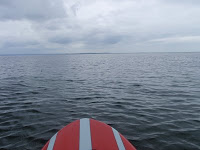 with little wind ripples breaking up the surface.
I make good time at first, my eyes fixed on the harbor and the jetties on the other shore. The wind has increased, more intense and coming right at me. The incoming tide is having its way with me as well, forcing me to take a ferry angle that makes the wind seem even worse. I can't help but think that I'd rather be in a kayak… these are the conditions that are just starting to get interesting, if I'm paddling a sea kayak rather than a SUP. I battle on, but the seeds of doubt are already sprouting.
And perhaps this is one limit of the standup paddleboard, at least in its present form. It has many positives, but beating it to windward against a rising tide isn't one of them. I try, for a while, to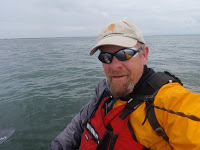 measure my progress against the buoys in the current, working my way from one to the next and getting an idea of my rate of progress. It isn't good. When I ultimately make the decision to turn around, I am in mid-channel and I've been paddling for almost an hour.
I am done with the SUP for now, but the day isn't over yet. I'm going back for the kayak.