The Bar (Part 1)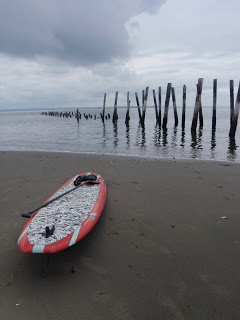 I was standing on the beach at Ocean Shores, looking across the water to the jetties of Westport, when the man emerged from the overgrown area to the west and began walking toward me. He was probably in his thirties somewhere, but he looked older. I had just put the paddleboard down on the sand and was going through my last pre-paddle rituals before attempting to take the SUP to Westport and back, across the Gray's Harbor bar.
"Good morning," he called out as he approached. He came up to stand next to me and gazed out to sea for a moment before he asked, "What are you using for bait? I've been here for four months now and I seen people on one side of me what was catchin' fish and on the other side too. And me, I ain't catchin' nothing."
Somehow, he had overlooked the fact that I had no fishing pole. I looked at him, then looked at the board by our feet, then back at him, and said, "Sorry. I do my fishing at Safeway." That cracked him up. He gave out with a laugh and a snaggle grin before he tuned to go. "Safeway, heh heh," he chuckled, as he walked away.
Westport looked close enough to touch. But not quite.