Ten years after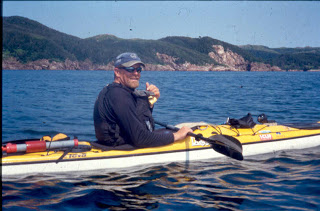 There used to be a band called
Ten Years After
. Guitar-heavy rock, from back in the day, when the men had long hair, the women didn't wear bras, and we were all children. I had a couple of their albums, discount purchases packed with songs I can't remember now.
Ten years ago today, I pushed off the beach at Quidi Vidi, day one of what would turn out to be a 13-week kayaking odyssey around Newfoundland. In the next 91 days, I would encounter big water, traveling icebergs, and more wild shoreline than I could envision back then, as I took my first strokes.
It's funny… I can't remember a single song by Ten Years After, but I can remember every day, every little moment, of that trip around Newfoundland. Some things just stay with you.
(If you'd like to read more about my Newfoundland sea kayak journey, copies of Around the Rock, the book I wrote about the trip, are still available. You can order off the web, or by phone at (253)691-7941.)