Talk talk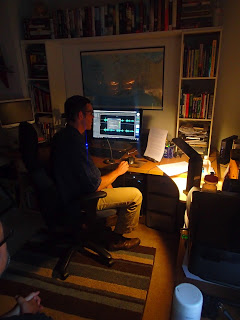 I've felt better. Whether it's because I have a 5 year-old in kindergarten or because I've gone back to teaching school myself, it's hard to say. But I am sick – sick like the guy in the Nyquil ads – with the fuzzy head and the sweaty sheets. I'm doing what I can but it seems like it's one of those bugs that has to run its course, and it's leaving its tire tracks all over me.
I swear, I'm the world's worst patient.
Last night, Cyrus Brown came over to Steve's house to lay down some narration for the film. Cyrus has a deep and moving voice and I think it will be just the right timbre to bring our story together. We'll have at least one more session, but it's going well.