Swan Lake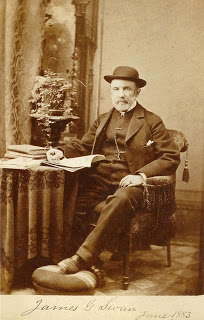 Of all the people who have made their mark on the Olympic peninsula over the past couple of centuries, none casts a longer shadow than James Swan. His story is a classic 19th-century tale of a man who needed more space, more elbow-room, than was available back east. He left his home, booked passage on a bark that took him around the Horn and all the way up to San Francisco, and gradually made his way north to what was then the Oregon Territory.
He first made landfall at Shoalwater, on the northern shores of Willapa Bay, but after a few years of living with the natives there, he worked his way up to the peninsula. Settling in Neah Bay for a time, where he became a school teacher, store keeper, surveyor and anthropologist, as well as a de facto representative of the US government, being one of the very few white men living in the Makah nation.
His was a long and varied career, marked by a skill he had with people, which ran through all of his dealings with the local tribes. He was pressed into service when Isaac Stevens was roaming the west, assisting the government in assembling tribal representatives for the signing of treaties that are still in effect today. He spent the majority of his later years along the Straits, living in Port Townsend and making countless canoe journeys back and forth to Neah Bay. His journals, millions of words on thousands of hand-written pages, tell the story of a Washington that is all but gone.
He was larger than life, in terms of what he accomplished, and it amazes me that I haven't written about him all that much. I certainly have read plenty, both by his hand and through the writings of others, and it would be difficult to overstate the impact this one man had on the early days of Washington state. There are not many like him around here now, and there never were.
One example of his indelible mark is at Swan Bay on Lake Ozette. Swan was the first to map the lake, back in 1861, and publicized its presence to the larger world. The bay was named in his honor, which is certainly a fine thing, but there was a time when local residents called the entire lake Swan's Lake, before the current name stuck. In hindsight, the name Ozette is a better fit and of more historical value, but Swan's effect on the area remains strong.
I'm not sure they even make people like James Swan anymore.