Survey gear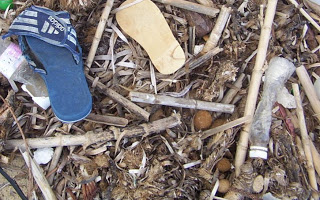 The type of beach survey we'll be doing on this summer's Ikkatsu Expedition will follow the protocol laid out in the NOAA Marine Debris Shoreline Survey Field Guide. The particular method we'll be using is called a Standing-stock Survey, a method based on counting the flotsam without actually removing it. There's an element of random sampling involved and a fair bit of paperwork.
In terms of equipment we'll be carrying specifically for the survey process…
– Camera
– GPS
– Surveyor's measuring wheel
– Flag markers
– 100′ measuring tape
– Work gloves
– Ruler
– Clipboards
– Data sheets (on waterproof paper)
– Pencils
A few of these items overlap with what we'll be bringing as general expedition gear (camera, GPS, etc), and we're going to try to substitute a 100 meter tape for the surveyor's wheel, but other than that, we're going to stick pretty close to the required list.
We're planning on doing a practice run this weekend out at Anderson Island. More on that later.