Sunday morning coming down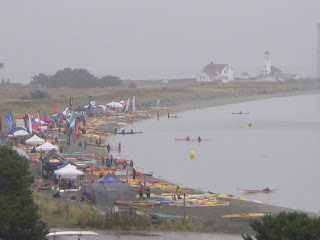 I'm sitting in the kitchen of our house in Fort Worden, one of the fine old haunted mansions on Officer's Row. It's still an hour or two until sunrise, but I can see that we are in line for another gray day. There are years when the weather has been perfect for a symposium, when the skies are deep blue and the air is warm. This is not one of those years. It's Sunday, the last day of this, the 25th Annual West Coast Symposium, and there is talk that it will likely be the last.
In 1984, there was a group of sea paddlers that put together the idea of a kayaker's gathering, a year-end party. September, while it is often a fair-weather month in the Pacific Northwest, is also unmistakeably autumn. It is typically regarded as the end of boating season, not yet winter, but getting time to batten down the hatches. If manufacturers and retailers, kayak guides and adventurers, could all get together every fall to share the stories and ideas of another year on the water, the notion was that it would be a benefit for all involved.
And it was. For a long time.
My first West Coast Sea Kayak Symposium was back in 1996. It was in its 13th year at this point,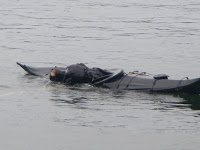 but it was all new to me, and I was overwhelmed. The variety of people that were there, the hundreds of boats that waited on the beach and the stories of kayak travel and adventure that hung in the warm fall air were enough to make a person giddy. Recreational kayaks had not yet been invented.
I came back each year, for most of the next decade. I taught classes and gave slide presentations along the way, and sold a lot of books. And it was still a good time, but over the years, the event started to change. There were more rules, less house parties. More fees, but less opportunities for vendors to sell boats and gear, (and a corresponding drop in opportunities for buyers to get the boat that would be best for them). The parties, loud and boisterous, as well as the freewheeling sales and trading were important parts of the symposium from the very beginning. Certain elements have remained the same, but the whole thing has seemed to get more serious all the time.
It's a tired bunch of paddlers up here anymore. The old bulls, many of them, are still around, but most of them are well past fighting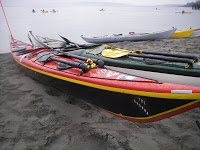 trim, and the rest of us have gotten older too. The paddling crowd has gentrified and broadened, as have their behinds. The people are older, and there hasn't been much infusion of new blood. Boats have gone from wonderful ocean-going craft to plastic toys. To be fair, this is a generalization; there are still some true paddling heroes and a few honest boats out there. It's just that there aren't as many.
There is still some time to go before first light. In a few hours I will hear the hissing and popping of the bacon blending with the patter of the rain. That heady mix of frying bacon and eggs, the aroma of coffee brewing and the shuffling of sleepy feet moving toward the kitchen: these all speak "Sunday morning" to me. I think of all the symposium Sunday mornings that I have come through and I wonder where it's going to go from here. I'm going to try to remember to take a few photos today. It may be that it's time for this event to change, to move to Seattle or split into a few different, smaller and local, symposia. In the long run, bold moves might prove to be the best to breathe some life into sea kayaking, to maintain it as a community.
Still, I will miss these Sunday mornings.