Stupid should hurt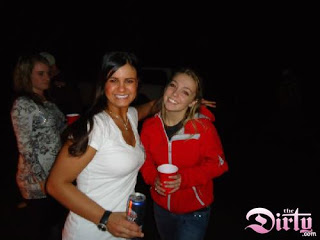 Amber Steim, the Port Angeles alcohol enthusiast who is accused of plowing into Ellen DeBondt's truck last March and killing her instantly, is going to be the subject of another hearing this coming Thursday in PA. Apparently, according to notification given to Ellen's family by the District Attorney, Amber's SCRAM bracelet – which she is wearing as a condition of her bail – has detected alcohol in her system. If it turns out to be true, this would be a violation of her terms of release. And, if she's found to be in violation, there's a good chance she could be remanded to jail to wait until her case comes to trial.
Which is probably a good idea. She could use, in my opinion, some down time to think about what she's done (or alleged to have done… whatever.) It seems to me she'll be able to think a little more clearly in the stony lonesome than out around the bonfire on a Friday night, doing spicy vodka shooters and Raindogs with the other kids from the trailer park. Admittedly, this is not an unbiased opinion and I would not make a good juror in this case, but so what? If she's really been out there sinking beers while she's out on bail, she should probably do some real time for a while instead of bracelet jail. It's as close to fair as possible, after all.
The hearing is at the courthouse in Port Angeles at 9am on Thursday, Nov. 10. I really want to be there but I'm not sure how that will work out. (It would mean leaving T-town at 6:30am, which would be tough with a 4 year-old in tow.) If there's any way to make it though, I would urge anyone reading this to give it a shot. Support for Ellen's family at this point is critical, and if attention to the process gets one more (allegedly) homicidal idiot off the street, it will be time well spent.