Storage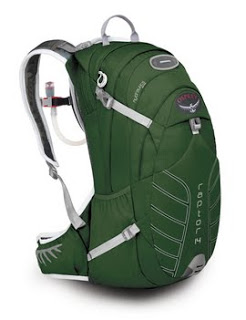 I have made what might turn out to be a fundamental change in how I'm going to pack for the SUP section of this summer's expedition. After doing everything I could to lower my center of gravity, I'm about to do something that will actually raise it. I was worried about carrying too much weight up too high, but I've changed my mind, if only a little.
After looking at the photos posted by Dave Collins from what had to be an
amazing 65-miler around Cape Scott
on his 12'11", I began to rethink the wearing of a backpack. I already wear a hydration pack, but it's just a small one with no room to carry anything but a water bladder. What if I switched to something a little bigger? Something that would allow me to shift some of the load out of the drybags – which might allow me to take the tent rather than the tarp, and thus eliminate the need for the foam sleeping pad. If I pack it right, and it's not too big, it could be a good thing.
That's the thinking anyway. I bought the Raptor 14 (pictured above), one in a line of hydration backpacks from Osprey. It's not waterproof, so I'll need to use internal dry bags, but I think it will free up enough space in the deck bags that it will make a big difference.
I'm going to the San Juans in a few weeks, doing a 2-day trip designed to test the system. More on that story as it develops.