Stillness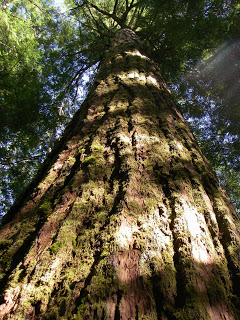 "A quiet hour is worth more to you than anything you can do in it."
Willa Cather
According to Jochen Sacht of the University of Michegan's Kresge Hearing Research Institute, our ears, "are not made for a noisy world. They're made for spoken communication, which occurs at a level far below what we experience in the streets or at the airport." He goes on to say that our high-volume modern world is moving too quickly and more importantly, at a decibel level that is literally damaging our ears, deafening our planet. "The fact that we are losing our hearing is no more surprising than if we were losing our sight by looking at the sun."
There is a place in the Hoh Rain Forest, approximately three miles from the Visitor's Center, that has been set aside precisely because it is so quiet. The fact is,
One Square Inch of Silence
is the quietest spot in the country. In the deep, dark evergreenery of the ancient forest, a small red-colored stone placed on top of a moss-covered log marks the precise location of the setting. The place was chosen because of its distance from roads and established air routes, and a significant amount of audio testing has been done here, confirming its rare position in our crazy, loud world.
It turns out that, in a world facing short supplies of oil, food and medical care, one of our most critical deficiencies is in simple peace and quiet. Who knew?