Staircase memories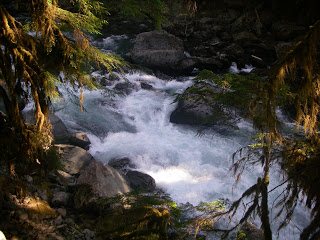 Before there was an Olympic National Park, there were a number of private lodges and resorts that operated in various spots around the peninsula. Enchanted Valley and Olympic Hot Springs come to mind. Also Staircase.
I don't think about Staircase as wilderness exactly, there is too much activity for that. Still, not nearly as much activity as there once was. The resort that once stood on the banks of the North Fork of the Skokomish River numbered approximately twenty cabins, along with offices, a store, and an assortment of other buildings. In the mid 1930's, a couple named Lester and Anna Dickinson ran the place, and frequently guided groups of visitors in the nearby mountains. City folks would come here for the weekend. Families and fishermen, hunters and hikers.
The Staircase Resort is long gone now. It went through a few different owners, grew during the 1940's, then fell into some disrepair. Eventually, the Park Service claimed the land, and most traces of the resort were erased. There is still one cabin that remains, a single building that was upgraded and repaired in 1956. It's the only structure still standing from the old days, perched at the edge of a small greensward near several newer park buildings. It's nondescript, a 16′ x 22′ rectangle with a gable roof and cedar shakes all round and on top. You wouldn't think, to look at it, that it has such a history.
There is more to any place than meets the eye.