Solstice
I can't remember where I heard it, but someone once told me that December 21st is the best day to get married. "Shortest day and the longest night."
It turned out to be a good day for kayaking too, although the drive to the put-in was an adventure in itself. There's a foot or so of snow in Tacoma now, and the low temperatures have kept it from melting, like it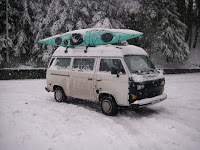 usually does. I coerced and cajoled the bus through the slush and ice until I finally parked it near Point Defiance.
High winds had been forecast for the afternoon, but they hadn't showed up yet. I had been hoping for rough weather, a storm paddle, but conditions were fairly good when I got on the water. The clouds hung low, heavy with snow, and the flakes swirled around me continually as I got underway.
The tide had turned a couple hours before, so I would need to work pretty hard and use the eddies along the edge to get around Point Defiance and into the Narrows. Seals eyeballed me as I paddled along, Eagles chattered to each other in the trees and salmon were jumping as I made my way down to Salmon Beach.
I saw some of my old neighbors as I paddled past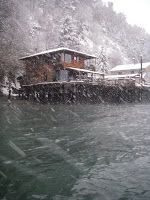 the houses perched above the black water. We laughed about all the snow and wished each other a merry Christmas, then I turned and paddled back. With the current now, and moving into a wind that was building from the north. Snow, falling thick and hard, stung my eyes. And it was getting darker.
Shortest day and the longest night
. I made it back to the bus just as darkness fell.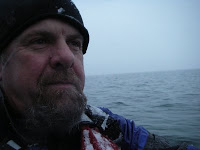 We had 8 hours, 29 minutes of daylight yesterday. From here on out, the days just keep getting longer.