Snow on the redwoods
The rain squalls along the shore took a decidedly wintery turn at the higher elevations. By the time I was fifteen minutes out of Crescent City, the rain had turned to snow and, even though it was not cold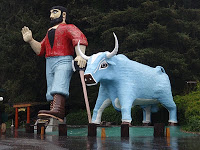 enough for any accumulation to develop, the flakes hitting my wind screen were fat and white and coming at me thick.
I overheard someone talking about a winter storm advisory on the highway going to Grant's Pass, which is the one I'm hoping to travel on later this evening. I could go back up the coast, back the way I came, but that would put extra hours on my trip and with another presentation tomorrow night in Portland, I'd like the miles to go by faster, not slower. I remain hopeful.
I did get out on the Eureka waterfront this afternoon, putting in at Woodley Island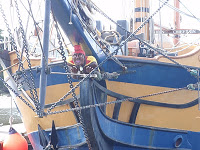 and paddling among the fishing boats and pleasure cruisers. It had been raining hard before I started and it's been dumping – off and on – since I got done, but for the time I was on the water, the skies were blue and the birds were singing. The Hawaiian Chieftain, from Aberdeen, was tied up near the park, and I paddled alongside, trading greetings with the crew.
Now I'm in the Lost Coast Brewery here in Eureka, me and all the other tourists. Which means that, for the moment anyway, I am no longer a dirtbag.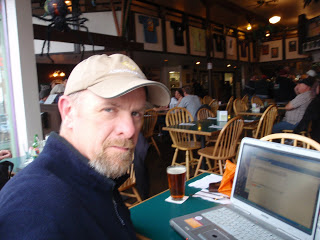 It is virtually impossible, after all, to claim dirtbag status while feeding on crab/artichoke dip and chasing it with a pint of Indica.
It does not really bother me; I know that I will regain my standing sometime tonight, when I am shoehorned into the stateroom of the Hotel Loyale, in some rainy Oregon rest area. Ahhh, the good life.