Snow clouds and writer's block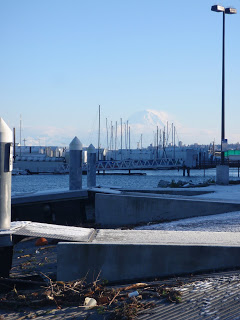 The other afternoon, just before launching, I couldn't help but look at the mountain for a minute or so. "The Mountain," people say around here, and we all know which one we're talking about. There is only one Mount Rainier. We can go for weeks without seeing it, especially this time of year, but when it comes out from behind the clouds, it is a commanding sight.
It was windy that afternoon, not only down at sea level, but on the mountain as well. A visible cloud of swirling snow seemed to blow off of the south side of Rainier, a frozen white vapor in a clear blue sky. From the summit and down, about 5000 feet at least, the snow cloud hovered on the mountainside. I took a couple of photos but they don't do it justice. They never do.
Staring at the mountain and watching the power of the alpine winds made me think about an article I am past deadline on, the first installment of a Rainier climbing journal. (I'm planning on a summit attempt next summer and will be writing about the process for visitrainier.com.) I'm really looking forward to the whole thing – the training, the climbing, and the writing – I just don't have much to show for the latter. It's done, sort of, mostly done in my head, I guess. I have lots of excuses, reasons why I haven't gotten more accomplished, but they are not that interesting.
I'll get on it today, I swear.