Snow at the Rialto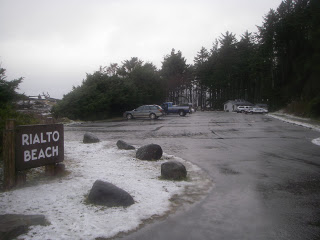 I think the snow has stopped, at least for now. The snow that fell yesterday is gone now and the temperatures have inched their way out of the freezer. The wind is still cold and there is no way you'd confuse the situation with summer, but it's a little warmer anyway.
There was a solid cover of snow yesterday morning as I paddled up the Quileute River toward Rialto Beach. The waves on First Beach were small and choppy, the tide was falling and it seemed like it would be a touch more enjoyable to take the paddleboard on a fresh-water trip than to get tossed around in the wind-blown peaks on the beach. Eagles perched in snags along the banks as I moved around the waterway, looking for the places where the current would hinder me least. There are not many eddies on this terminal section of the river; rocky breakwaters have been built to channelize the river as it enters the sea, and this has resulted in a strong, uniform flow.
When I got to the other side, I pulled the board and the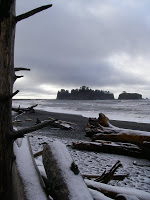 paddle up the bank, stashed them in the weeds and took out on foot for Rialto Beach. There were a half-dozen cars in the parking lot but only one person, a young man who was setting out for a 4-day backpacking trip on the coast trail. I talked with him for a few minutes and wished him luck before he hoisted his heavy pack and set off down the beach.
Rialto Beach stretches up to the north in an uninterrupted 4-mile sweep that staggers the mind and the eyes. The constant pounding of the breakers on one side and the towering evergreens on the other frame a perfect half-moon of sand and driftwood that has changed little from the way it looked to the early European explorers. This beach, as well as the rest of the Olympic National Park coastline is, quite simply, a sort of time machine. (Thank you, FDR.)
I walked up the beach for 20 minutes or so, poking under the snow-covered logs and jetsam for glass balls – didn't find any – then headed back to the river and paddled back to town. I toyed with the idea of punching through the bar and paddling back to the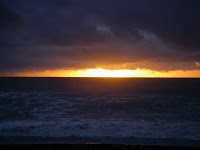 cabin through the surf on First Beach, but I didn't. Maybe I should have.
The days go so damn fast. And when they are gone, they are gone forever.