Smith Island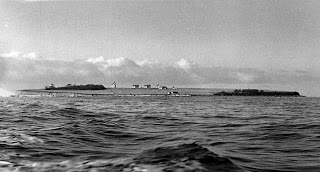 I've been thinking lately about Smith Island. It's one of those places that even long-time residents of western Washington probably don't know much about, if they've even heard of it at all.
Smith Island is located near the eastern end of the Strait of Juan de Fuca, about 6 miles off the west side of Whibey Island. The photo above is from 1949 and it's my understanding that most of the buildings pictured are no longer there. I remember seeing a photo of the lighthouse once, taken back in the late 1990's, that showed it teetering on the edge of the fast-eroding cliff, much of the land where it once stood having already disappeared from under it. (I have looked on the web but I can't seem to find it again.)
The cliff just kept getting closer and closer to the buildings until they couldn't survive anymore – at least, that's how I understand it. It's part of the San Juan Islands National Wildlife Refuge now, so going ashore is no longer permitted. Still, I'd kind of like to see it for myself… I'm thinking that an October kayaking junket might just be in order.
More to follow.