Slouching toward summer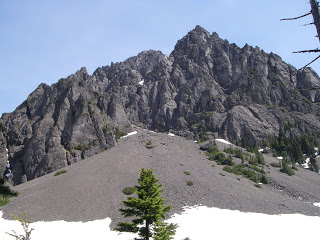 I remember one summer, the summer of 1993, that was cancelled completely. At least here in western Washington. I remember it so well because it was the summer when I was supposed to be renting kayaks on Ruston Way. Down by the water all day, peddling kayak rides in the sun to throngs of happy customers…
It didn't work out that way. It rained almost every day and it was cold enough that I remember seeing my breath on July 24th. And it wasn't the kind of dew-point, see-your-breath phenomenon that we get every now and then on the colder humid days; it was really that bitterly cold, at the end of July. Needless to say, customers were few. I read a pile of books that summer, did a crossword puzzle or two, under the worn blue tarp at the top of the beach.
Summer is not a given, here in the Pacific Northwest. The snow is still deep in the Olympic mountains, the high country still slumbering under a thick, white blanket. When it will melt enough for extended backcountry travel is anyone's guess. I am hoping for a heat wave soon, a rare week or two of high temps and blue skies. There are some intriguing spots I want to see this summer, and they are all currently buried: the Tubal Cain mine, Mount Angeles loop, Wonder Mountain, Mount Barnes and the headwaters of the Elwah. There's more, of course, but these would be a good start.
While I'm waiting for the high country to open up, I'm thinking maybe I'd like to go canoeing.