Slice of Moclips
The town of Moclips – if "town" is the right word – started out as a Quinault village along the banks of the Moclips River. It was a place where young women were taken when they reached puberty, a place where menstruating females were set apart from the rest of the tribe, so as not to bring misfortune and bad luck to tribal fishing and hunting efforts. It is located very near the place where seven Spanish sailors were killed by natives, back in the days where white guys with ships used to plant crosses on wilderness beaches and claim the land for one King or another. Hardly seems possible now.
Moclips was established as a bonafide town in 1905 and for a brief run, it was quite a bustling burg. A man named Dr. Edward Lycan built a couple of grand hotels – his second one boasted 270 rooms just a dozen feet from the high tide line. Which was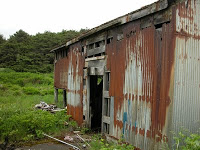 too close, as it turned out. Three stories tall and a block long, the huge structure dominated the beach dunes until 1911, when a series of storms battered the Washington coast. All sign of the hotel was gone by 1913.
Other disasters have periodically threatened the town over the years. Fire, mostly. A house or a store burned down here and there, with the last major blaze coming in 1948 on the bluffs above the beach, when an accident involving a welding torch and a bottle of whiskey took out most of the homes and businesses on the east side.
Moclips is pretty quiet today. Most of the buildings are vacation cottages, often shuttered and empty. Pacific Beach, a couple of miles to the south, has a little more going on, with a State Park and a Navy hostel, hotels and shops, but Moclips itself is on its own side track, apart.