Signs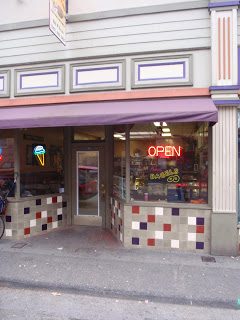 If there's a prettier sight than the "open" sign on a donut shop, I don't know what it could be. I'm sitting here at Don's Donuts with a steaming paper cup of coffee, a glazed buttermilk donut and the
Carpenters
on the radio. Must be Sunday in Arcata.
I won't be here long. I'm planning on heading back north after spending the night near Trinidad. I did a twilight paddle out among the rocks of Trinidad Bay after dinner yesterday but I'm looking for surf again now and it seemed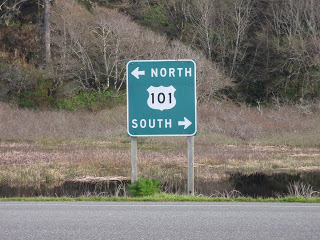 like the surf was better further north. And that course will take me back through the redwoods again, a happy coincidence.
I love the 101. Whether it's in the tropics of Santa Barbara or the wilds of the Olympic peninsula, or here on the sweet northern California coast, I am continually in awe of the country this road can take a body to. If life is indeed "a highway," as the song claims, I bet it's this one. North or south, there's no wrong way to turn.
Almost all of the beaches I stopped at yesterday had some kind of warning sign, a legal disclaimer that aimed to both inform the public and absolve the property owner in the event that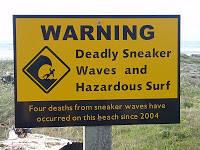 something bad were to happen. I suppose the lesson I'm intended to take away from all this is that beaches are dangerous places, not for the faint of heart or hand.
So why is there not a similar warning sign on every freeway onramp?