Shore day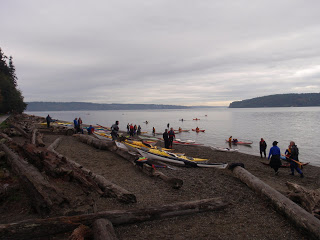 They said it was going to get windy. They were right. A winter-style storm is in the process of working its way across western Washington, huge swells out at the coast, snow in the Cascades and Olympics and high wind and rain all over the rest of us.
I didn't get out there this morning. Between the wind and the high water, it would have been ugly, even if I'd waited till daylight. Some days are shore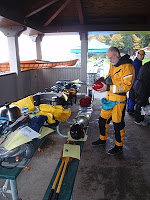 days.
I went to the kayaker's shindig yesterday at Owen Beach, the benefit event for Dave Mottershead. I wasn't there too long, just dropping off a couple Kokatat paddling jackets for the auction. It looked like it was well attended, lots of boats in the water and some of the area's best paddlers out giving some impromptu clinics. Overcast and cool, but that's how we like it around here.
The storm is supposed to blow through tonight. I guess we'll see about that in the morning.