See you next year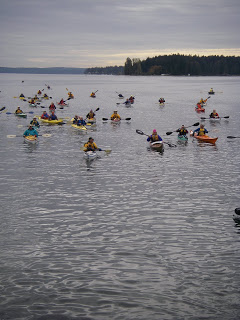 The Puget Sound Challenge held its official closing ceremony and barbeque at the waterfront park in the little town of Allyn last Saturday. I tried to count the paddlers as they came in below the Allyn dock, but there was no way to keep an accurate tally, at least not once I got past 40. I'd guess there were about 60 boats on the water, all paddling strong to the beach, as a group.
The Olympic Paddle Club organized a flawless event, at least from an observer's perspective. The Challenge got people out on the water – quite literally, hundreds of people – in a way that combined adventure, charity and a chance to connect with their home waters in a new and powerful way.
There are plans to do it again next year, and I expect I'll be out there for another turn. It's too cool to miss.