See you in Port Gamble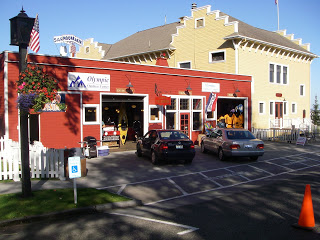 This coming weekend is the debut of the newest sea kayaking symposium, the
Northwest Adventure Sports Expo
, which for some unknown reason is going by the gratuitously dramatic name
Unleash the Beast
. Like it's a cage fight or something, I guess.
I'm looking forward to it. I'm doing 6 classes in 2 days, which is a lot, and when I'm not teaching, I'll be in the Backpackers Supply booth, probably gabbing about hull speed and gelcoat. It's a familiar scene, even though this is the first time this particular event has been held. I've been to many like it… I can't imagine this one will be fundamentally different from the others.
I am starting to question the whole symposium scene, however. I don't need to go into it in depth here, but my main concern is that there is often nothing really new at any of them. Tired, cranky reps who seem like they'd rather be somewhere else, attendees who look at beautiful new boats and boards and see only dollar signs when they should be seeing freedom. I know there's more to it than that – maybe I've just been to too many.
This will be the last one for me this year though, so I'm planning on making it a good time.