Second time around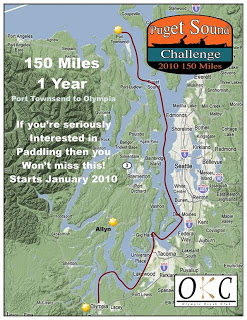 I registered the other day for this year's Puget Sound Challenge. The official fee has been hiked up this year ($50), but that includes a t-shirt, sticker, raffle chances and a donation to WWTA (Washington Water Trails Association). Last year's inaugural PSC was a great success, not only for the
Olympic Kayak Club
, but for every participant I've talked to. It was an eye-opening run for me too, last year at about this time.
A year ago today
I was pushing hard into the wind on Hood Canal, not quite halfway through the PSC route. I was on day 3 of a five-day stretch that would be fully self-supported, living off the things I'd brought with me on the board. It was a new experience for me, going ultralight in winter, and doing it all on a 12-foot SUP. The learning curve was very steep at that point.
Still is, really. That's what keeps it all tolerable.
This year's PSC is essentially a paddle from Port Townsend to Olympia. I'll be paddling a good 90 percent of the route as part of the Olympic Grand Circle, and I look forward to meeting up with other participants along the way.