Saturday at the races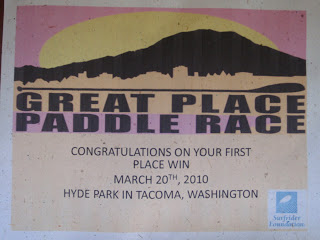 It was a terrible start. I was near the back when I thought I heard the "10 seconds" call, but it must have been 30, maybe longer. Who knows what I heard? I paddled hard for the starting line, hoping to time it a little better, but I had to pull up short of the mark when it became obvious that the rest of the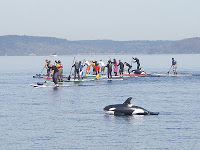 pack wasn't moving much. I never got my positioning back before the starter's horn blew. It took me a few minutes just to get back into the group, but once I got established, I started passing people. Passing people feels good.
I didn't get first place overall, just first in my division (which, I believe, only had one racer in it.) Whatever. A win is a win. I don't know the total number of competitors (about 20), but I think I finished about 6th or 7th overall. Official results are supposed to be up on Monday on the Great Place Paddle Race web site.

And really, I felt that I was competing with myself for the most part. I did better than I thought I would do and that feels like a win to me. Add to this that I won a sweatshirt in the post-race raffle, and I'd have to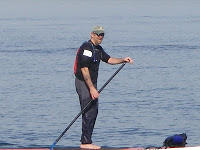 say it was an all-around success. Thanks to Surfrider for a great event.
PS. I'm sore today, a day after the race. Mostly my legs, which surprises me a little. I felt like I was pushing pretty hard with my upper body but my legs must have been getting quite a workout at the same time.