San Juan orca; an update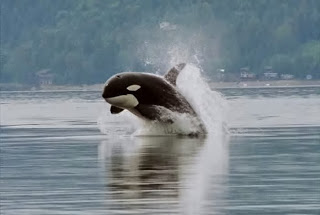 There's new guidance out for whale watchers, whether on commercial barf boats or in kayaks. Here's a real good
synopsis
of the regulation changes and their effects on people and whales alike, but the main update for paddlers is that we have to stay 200 yards away from the orcas now, compared to the 100 yards that has been the rule for a long time now. Since I've been paddling up in Haro Strait and the San Juans. A few thoughts:
200 yards is still close, at least from a kayaker's perspective. Paddling with the orca is a powerful experience, either way.
On the down side, now I have to figure out how to mentally gauge 200 yards. In the past, I've just tried to keep a "football-field" away from marine mammals; "two football fields" is not as intuitive a distance. I'm sure, with time, I'll adapt.
The reality remains that we never really know what the orca will do as they are underway. Commercial operators will be kept further back but the whales will continue to approach paddlers that just sit still. That's really all it takes, a little patience. More often than not, I have found that the whales seem to be watching me as much as I am watching them.