Road trip
Sometimes it's good just to take a drive. Last Friday, I made the trip from Tacoma to Westport to go surfing with a friend. The surfing ended up not being all that inspiring; the drive was better.
The highway between Olympia and Aberdeen wound through brackle fields and trees that were already bare. There was very little of the fall color that is still on the hills and along the roads everywhere else around here. There were some spots, in the hollows and the glens, where the leaves still clung desperately to their branches, but even here they looked tired and worn, and it was easy to see they wouldn't last much longer. It's most likely the wind that comes through this area, that's probably what stripped the trees so quickly.
The Satsop River was running high as I crossed it. High and brown, the swiftly flowing mud-water scoured the banks as it rushed toward the Chehalis and the sea. It had been raining most of the week and river levels were high all over western Washington. It didn't look like rain that morning, however. High clouds obscured the sun, but there were streaks of blue along the southern horizon, a good omen.
Through Aberdeen, with its tired, hard streets and then the straight shot to Westport, following the southern curve of Gray's Harbor. Over the John's River, with its mountains of oyster shells and acres of mud. By 10:30, we were in the parking lot at Westhaven State Park, gearing up to get on the water.
The sight of that beach stretching south toward Willapa and the Long Beach Peninsula, just that first snapshot, that alone was worth the trip. (Which is a good thing, because the waves were big and quite powerful; our surf session was brutal and short.) And the drive too, that was time well spent.
I'm heading out on another long drive soon. Me and the boy are going to California, to visit his grandparents for Thanksgiving.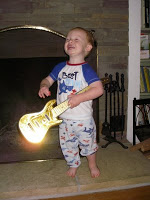 I've got a few slide shows to do as we make our way south and we're planning on taking it easy, but it's still a big drive. A long way. I am sure it will be an experience to remember. We'll be gone through the end of the month – I'll write more when December comes.